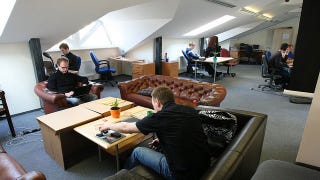 Coworking offers some of the advantages of an office away from the office, but there may be another benefit as well for job seekers: a place to network and actually get hired.
Lifehacker alum Kevin Purdy writes at Fast Company about this unique strategy:
Stopping in and making friends not only gets you away from your pets and your way-too-close fridge, it can give you rare, unique leads among the small businesses and startups that are the best sources for jobs.
He also offers some additional tips in the article for finding a job that go beyond regular resume polishing.
It's a tough job market, unfortunately, so we have to think a little differently. Do you have any advice for finding work or thoughts on coworking? Let us know them in the comments.